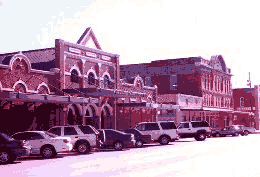 Why all the interest in small towns? A Time Magazine article in December, 1997, "Why more Americans are fleeing to small towns", reports that two million more Americans have moved from large cities to smaller rural towns than migrated the other way. With crime rates and living costs at record highs in the larger metropolitan areas, the move to small towns has increased. Families all over America are moving to or vacationing in the many quiet, scenic small towns all over the United States.
What is the best way to find the perfect small town? Visiting the town is a good way, but very time consuming. Here you can search the Guide to the Best Small Towns in the comfort of your own home, night or day, rain or shine!. The Guide is frequently updated and includes what we consider to be some of the best small towns in America. Start your search in the state or region that interests you. You will find many interesting small towns, helpful links and information that will help you find the perfect small town.
Escape from the big city and head out where the air is clear, the folks are friendly and the word "stress" is not found in the dictionary. Join a nationwide small town discussion group, find interesting small town information, promote your small town or community, and take a tour of the Best Small Towns in America - right here in the Guide! We hope you will enjoy your visit and come back soon.
Don't surf off until you visit what we consider to be some of the best small towns in America! The internet resource for information about small town America Stroll on down to the Small Town Market. No crowds, no traffic, no waiting in line! Why can't the mall be this much fun? Home of the FREE Ad Pages! List your business or organization for FREE! Click on in to hear some of the best knee slappin', toe tappin' blue grass tunes to fall upon the human ear Come on by to keep up with the latest news, gossip, and small talk from small town America NEW!The Guide now features a bulletin board and Chat area! Come on by to add a link to your Web Site on our SmallTown Free Links Page! Link to Us! You will find several images and a banner we're created for you to use to link to our page. Feel free to use them to link to our page.